On Wednesday 22 November I accompanied two QKA sixth form students Viktoria and Matthew to London to take part in a Mock EU debate organised by the European Council. Matt and Viki had already competed in one of series of heats in London where they had to debate on the topic of Brexit with teams from other schools and colleges across the country. Although there were many independent schools and teams with considerable debating experience Matt and Vicki were selected for their performance to go through to the final debate.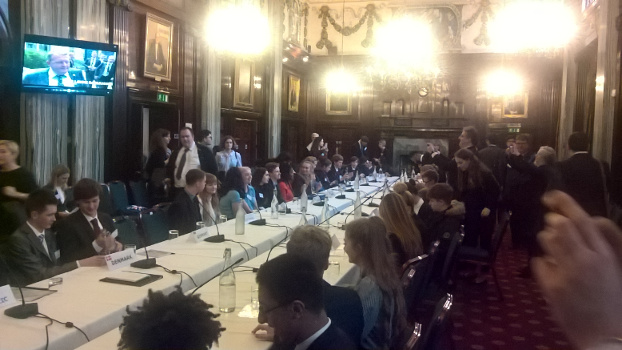 In the EU mock debate each school or college was in a simulated negotation and represented an EU delegation at the European Council negotiating over two issues following Brexit, the role of the UK in Erasmus the European educational and cultural organisation and the rights of EU citizens in the UK post Brexit. Matt represented us on the former and and Viki on the latter and we were representing Estonia in the Council. There were also two schools or colleges apiece representing the UK delegation, the European Commission and the press. The negotiations were chaired by real European Council officials while others advise the UK and EU delegations. Throughout the day different delegations put forward ideas and proposals in formal meetings as well as engaging in private negotiations on the sidelines over coffee and lunch. At the end of the day the Commission group put forward two propsals trying to accommodate the concerns of all the EU countries which they had already obtained agreement from with the UK and these were both carried though there was some opposition on the EU citizens proposals. Voting was just like the real council with big countries like Germany getting more votes than little ones like Estonia who we represented.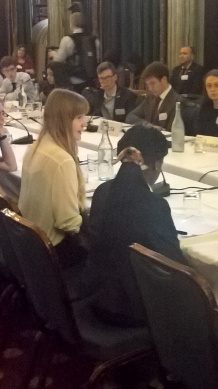 Our students performed really well. They had done a lot of homework and were on top of their briefs and made excellent speeches and seemed to really enjoy their day of being EU ministers. I was particularly proud that we were the only school in Cambridgeshire represented and were one of a minority of state schools which made it through to the final stage. Hopefully the event wil be repeated next year and we will be able to take part again.
Paul Taylor