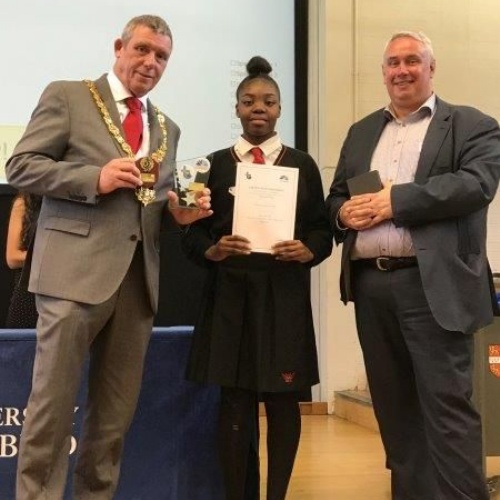 QKA student, Kelly, has won the National Foreign Language Translation Bee Competition for Spanish, held at the University of Cambridge!
On the 25th June, the University of Cambridge hosted the Foreign Language Translation Bee National Final. The event was run by Route into Languages and saw the best Year 8 and 9 students from across the country come together to compete for the national title. The competition comprised of several rounds and each student had one minute to translate from English to their chosen language, either French, Spanish or German, before spelling each word.
Kelly represented the East of England at the competition and her chosen language was Spanish. After a number of tense heats, Kelly appeared to be placing in between the four semi-finalists. However, after a nail-biting final Kelly won the competition and is now the best translation bee competitor for Spanish in the country this year!
Well done Kelly, we are all immensely proud of your determination and hard work. You are a real credit to the academy!
We would also like to thank our Year 9 Language Leaders who helped at the event. Well done to Jamie, Sophie, Arminta, Natalija, Daniela and Beatriz for representing the school so well!