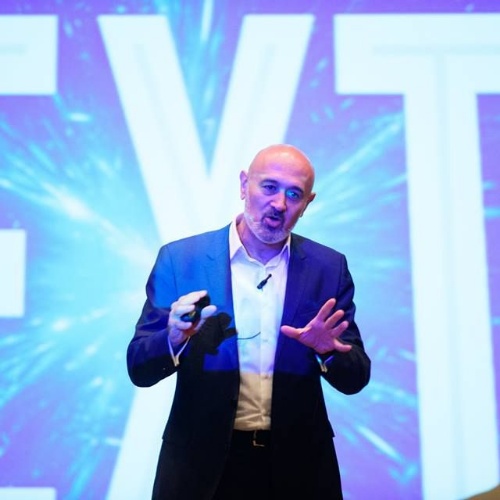 This October, some of our lucky Engineering students had the exciting opportunity to attend the annual Sir Isaac Newton Lecture. They listened to guest speaker, Jim Al-Khalili, who is a Quantum Physicist, author and broadcaster.
The event was held at RAF Cranwell and was hosted by the Institution of Engineering and Technology, the Royal Aeronautical Society and the Institution of Mechanical Engineers.
Jim's lecture was called 'What's Next' and he talked about the future, discussing topics including AI, the Internet and time travel. Our students thoroughly enjoyed the talk and are excited to learn more.
Some of our students have written an account of the day:
Arina:
We visited RAF Cranwell to listen to a lecture by Quantum Physicist Jim Al- Khalili. The lecture covered the future of engineering and how and why human growth has progressed, it featured an interesting graph about how slow technology progressed and how it rapidly increased, citing the invention of the Internet as one of the biggest advancements of the age.
Jim covered many topics such as AI (artificial intelligence), quantum mechanics, gene modification and Nano-technology.
He discussed how he believed a new topic of engineering will be created, called quantum bio engineering, working to medicate and heal or even modify the genetic make up of humans by using Nano, cellular and gene - technology.
Tom:
The lecture presented by Jim Al-Khalili, talked about Ai and how, in the future, robots and drone technology might develop a conscious approach to their thinking and start making their own decisions without any human intervention.
He also spoke about worm holes in space and how time travel could be possible in theory, although he pointed out there could be paradoxes with this.
Jim covered all the STEM (Science, Technology, Engineering and Maths) subjects during the lecture.
I am looking forward to next year's Sir Isaac Newton Lectures.
Abdul:
We visited RAF Cranwell where we heard Mr Jim Al- Khalili talk about some fascinating facts and arguments on artificial intelligence and how they can benefit us in terms of medical treatments with the help of Quantum mechanics. Jim also talked about bending space and being able to travel through worm holes which I find very interesting. Jim also talked about modifying genes and how science is able make things to enhance human body and the moral implications of this – for example modifying a baby's appearance.
Overall, I found the lecture intriguing.