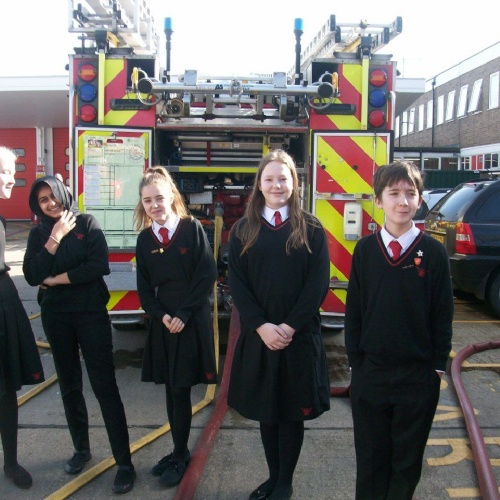 The Queen Katharine Academy STEM Club took part in an exciting STEM Challenge at Dogsthorpe Fire Station this term.
Our team of four Year 8 students and one Year 7 student competed against 9 other schools in a fire tender challenge. Each team had 3 months to design and build a vehicle that could pump water through a window in a model house in only 2 minutes. The rules stated that the vehicle had to travel 5 metres, on its own, from the team area before it started pumping water through the window.
On the day, our fire tender managed to pump an impressive 9 litres (1 bucket) within the given time! The students also delivered a 10 minute presentation to senior staff at the fire station. Our students were a little nervous but spoke enthusiastically about their project and impressed the panel of judges. Although we didn't win the overall team challenge, one of our students won the impressive prize of an 'Amazon Fire' tablet.
The day also included many fire and rescue activities from using a real fire hose, virtual reality, thermal cameras and logging a fire engine's inventory onto a database!
This is the first of many projects planned this year by Mr Shirley's STEM club. If you are interested in taking part in future projects or want to find out more about STEM club – come along to the DT Department and ask for Mr Shirley. STEM club takes place every Thursday after school in E9.