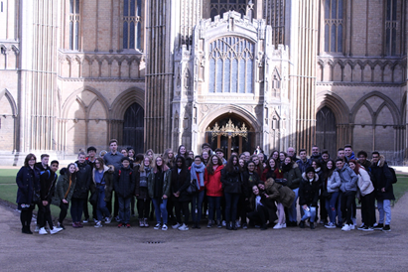 This project focused around the 2018 European Year of Cultural Heritage and investigated the changing face of Europe and the increase in human mobility. As such a diverse school with 41 languages spoken, it was a project very dear to our hearts and allowed students to share their own stories about immigration as well as learn first-hand from a range of people and organisations about the plight of refugees fleeing war and economic migrancy.
The students worked with our Spanish and German Partner schools in Viersen, Germany and Badajoz, Spain to carry out a series of interview, attend visits and talks and they then worked together to create music, dance, poetry, prose and art to explain and express what they had learned.
In Germany the focus was on creating music and in Spain it was dance (although in each location the students created a range of music, dance, prose and art). The final project week took place at QKA where students learnt about European mobility and then put all of their pieces together to create a full-length theatre production, depicting the struggles and successes of migration and mobility.
The project was a huge success and students not only gained a wealth of knowledge about the issues surrounding mobility, but they also gained empathy, made long-lasting friendships with their European peers and developed their leadership and research skills. Earlier this year, project participants and QKA band Black Vinyl, won the 2018 Peterborough Music Festival New Youth Music Showcase Competition with one of the songs from the project 'Nobody Cried'. Furthermore, the anthology created during the project was commended and published in the Mother Tongue Other Tongue Bilingual Poetry Competition which forms part of the Cambridge annual Festival of Ideas. Black Vinyl performed the songs that they had composed and written during the project to the public audience in Cambridge University at the prize-giving event.
The video below was produced during the final presentation of the Erasmus+ Project, Symbols to Symphonies. The project focused on Human Mobility as part of the 2018 European Year of Cultural Heritage.
https://www.youtube.com/watch?v=MzyHmpyL5oA
Use the links at the bottom of the page to view a sample of the project work created independently by the Symbols to Symphonies students: