PORTUGUESE & CREOLE SPEAKING AMBASSADORS
Throughout the past year, our ambassadors have been incredibly active, dedicating their time to mentorship, honouring the Portuguese language and culture within the Community of Portuguese Language Countries (CPLP), and striving to become outstanding influencers within our community and educational institutions.
By celebrating the Portuguese language, we aim to emphasize its widespread usage and significance across various countries, including Guinea-Bissau, Portugal, Brazil, Cape Verde, São Tomé and Príncipe, Angola, Timor-Leste, and Mozambique.
It is with great pride that our student body represents this diverse collective, and they hold a strong desire to share their rich cultural heritage and background with their fellow schoolmates. With this in mind, this academic year marks the start of many events and activities which will be outlined below.
Guinea Bissau Assembly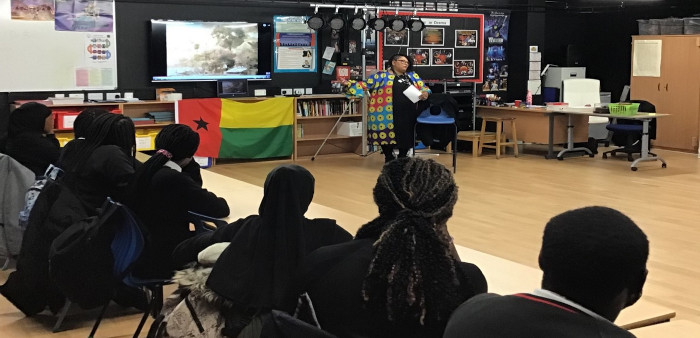 Open Evening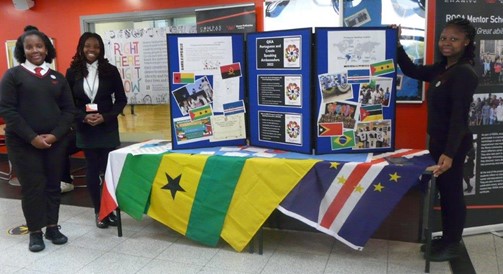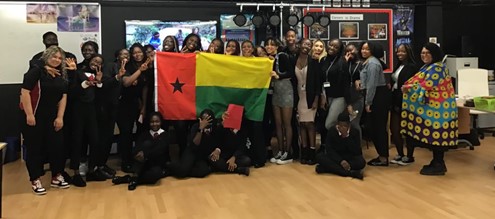 Poetry Reading
---
Peer mentoring
Our ambassadors have taken on the meaningful role of mentoring younger students, showcasing their dedication and commitment to making a positive impact within our school community. With their wealth of knowledge and experiences, these ambassadors generously share their insights and provide guidance to inspire and support their mentees in various aspects of their academic and personal journeys.
Through this mentoring program, our ambassadors serve as role models, fostering an environment of encouragement and growth. They offer valuable advice, helping younger students navigate challenges, set goals, and develop crucial skills necessary for their future success. Whether it's providing academic guidance, assisting with organizational strategies, or offering emotional support, our ambassadors truly embody the spirit of mentorship.
Their commitment to mentoring extends beyond the confines of the classroom, as they actively engage with their mentees in extracurricular activities and cultural events. By creating these meaningful connections, our ambassadors not only foster a sense of belonging but also promote leadership, empathy, and collaboration among our student body.
The impact of their mentorship is evident in the personal growth and accomplishments of their mentees, who gain confidence, self-belief, and a strengthened sense of purpose through their interactions with these dedicated ambassadors. We are immensely proud of our ambassadors' efforts and grateful for their unwavering commitment to nurturing the potential of our younger students through mentoring.
Portuguese Excellence Programme
A dedicated cohort of students recently completed a comprehensive course aimed at equipping them with valuable insights into career pathways and the process of selecting university courses. As part of this program, they had the opportunity to visit Anglian Ruskin University, where they immersed themselves in a day of self-reflection, contemplating the optimal course options aligned with their desired career paths.
In addition to their university visit, the students also engaged in a day-long exploration of various professions within their local community. Esteemed professionals, including Cheila Viegas, a Health and Safety advisor, Susana Caetano, a Senior Nurse in the NHS, and Sidnei Tavares, a professional footballer, generously shared their experiences and expertise with the aspiring students.
Through these interactive encounters, the students gained first-hand knowledge about the intricacies and demands of different professions, enabling them to make informed decisions about their own educational and career trajectories. The opportunity to engage with accomplished professionals provided them with valuable insights and inspiration, nurturing their aspirations and fostering a deeper understanding of the diverse opportunities available within their chosen fields.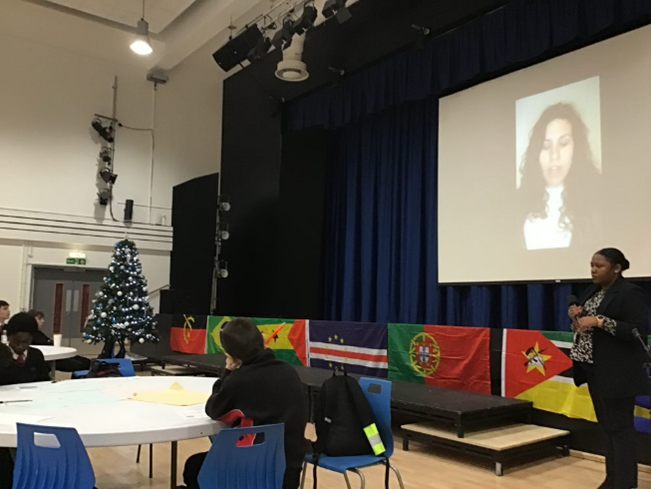 ---
Carnation Day
On April 25th, 1974, a momentous civil revolution took place, bringing an end to years of oppressive dictatorship and heralding the dawn of a new era free from colonial rule.
Each year, Portugal commemorates this historic event on April 25th, which is celebrated as a national bank holiday. As part of our tribute, we organized a grand celebration at the Theatre, honouring the significance of this day.
Our program included a variety of engaging activities that paid homage to April 25th, a date that symbolizes liberation from a long-standing dictatorship that had persisted since 1974.
Through these activities, we aimed not only to remember and honour the struggles and triumphs of our past but also to unite and inspire our community for a brighter future.
Among our student body we had the privilege to have parents and other schools celebrating with us. The theatre was decorated, we had traditional food, games and we enjoyed traditional music.
In addition to commemorating the end of the dictatorship, we seized this occasion to celebrate the Portuguese language, which serves as a unifying force across diverse countries and continents. Its richness and beauty resonate far and wide, connecting individuals with shared heritage and fostering cultural exchange and understanding.
As we gathered at the Theatre, through our collective recognition and appreciation of the past, we aimed to instil a sense of pride, unity, and cultural diversity within our community coming together to honour the historic significance of April 25th and embrace the power of the Portuguese language to bridge gaps, build relationships, and inspire generations to come.
---
TESOL (Teaching English for Speakers of other languages) Leaders
The academy takes immense pride in the accomplishments of a dedicated group of 6th Form students who have undergone rigorous training to become ESOL (English for Speakers of Other Languages) instructors.
These students have displayed exceptional commitment and enthusiasm in their pursuit of teaching English to non-native speakers. This course is open to parents and members of the community.
Equipped with the necessary skills and knowledge, these aspiring educators are embarking on a remarkable journey. At the moment, they are extending their expertise by offering English language instruction to parents and other adults within the community. This invaluable initiative not only empowers the parents with essential language skills but also fosters stronger connections and communication within the community as a whole.
The academy is elated to witness the growth and development of these students as they embark on this noble endeavour. Their dedication and determination serve as a testament to the positive impact that can be achieved through education and language instruction. The academy eagerly anticipates the transformative impact these young instructors will have on the lives of those they teach, as they help individuals gain confidence and proficiency in the English language.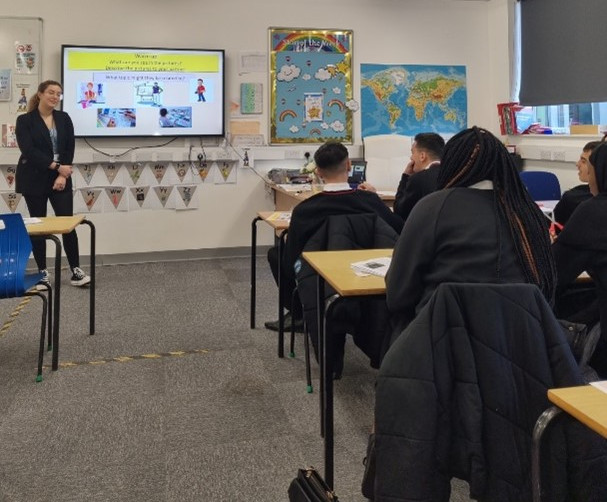 ---