EAL Hub Peterborough
Peterborough is a hugely diverse city and at Queen Katharine Academy there are at least 41 different languages spoken by our students and staff, in addition, most of our non-native students were not born in the UK and are, therefore, still developing their fluency in English.
Although QKA may be unique in the number of newly-arrived migrants, EAL is an issue affecting the city and surrounding area as a whole. The Academy has already carried out a lot of research and development in this area and, as such, has recently received funding from the Big Lottery Fund to develop an EAL Hub for Peterborough based at Queen Katharine Academy.

Below are a few of the research and events that have and are due to take place in the Academy:
Erasmus+ Right to Roma – 2017 - 2019
Erasmus+ Right to Roma – 2017 - 2019
Queen Katharine Academy has been lucky enough to gain funding from the European Union Erasmus+ grant fund to carry out research into education in Central and Eastern Europe in Poland and Slovakia. The reason for this research is that many students within the Academy originate from these countries and the Academy feels that it is very important to understand, not only their home country culture and traditions, but also their education systems. By understanding the educational diet and experiences that our students will have had prior to arriving in the UK, allows us to better support them in their transition to the UK system.
The project consists of 4 in-country visits: 2 to Slovakia and 2 to Poland.
In March 2018, Lynn Mayes (Head of School) and Jane Driver (Assistant Principal) visited Prešov in Eastern Slovakia. The trip was supported by Petr Torak MBE who facilitated the trip and acted as a translator. During the visit the group visited the village of Jarovnice, which houses approximately 10,000 Slovakian Roma inhabitants. Mrs Mayes and Miss Driver visited a large secondary school Základná Škola (https://zsjarovnice.sk/ ) as well as a small special school in the village. As well as visiting the two schools, they also met with the Mayor of the village who talked to them about the challenges facing many Roma families in Jarovnice. The Mayor also took them around the 'settlement' which is a large area of the village where substandard, makeshift housing has been constructed. Mrs Mayes and Miss Driver were very saddened and quite shocked to see the terrible living conditions that the population of this village were forced to live in.
In May teaching staff Bethan Griffiths, Marcin Hajdecki and Assistant Principal Jo Hammond visited QKA's Polish partner school 'Primary School Number 1 in Tuszyn'. During the visit they learnt about the educational system in Poland and the curriculum spread. They also looked at the diversity of the cohort compared to QKA, the timetabling of the school day and how the school liaises with parents. A further visit to the school is planned for May 2019.
In December a number of staff members from the Science Department, Computer Science, Accelerated Curriculum and Senior Leadership Team visited Nitra in the west of Slovakia, During the visit the team visited QKA's partner school to plan for a student project which will take a group of the Academy's Y7 students to Nitra for a week in March 2019. Apart from visiting our partner school, the team visited a large secondary school in the centre of the city, a primary school attended by Slovakia Roma students and the University of Nitra's Roma Studies Department.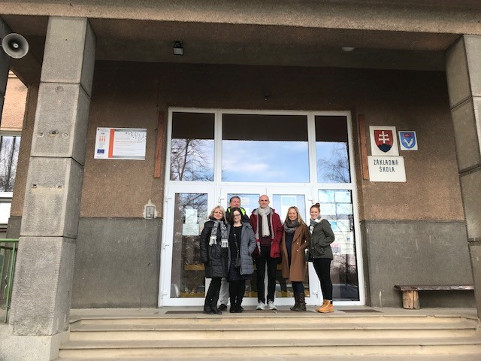 The visits highlighted the plight of many Roma families in Europe and helped the Academy to understand students' prior life and educational experiences and to put tailored support in for our Roma students to ensure that any educational gaps are filled and that they understand that they have the same opportunities for success as anyone else. This has led to a series of initiatives:
ROGA Mentor Scheme – An aspirational scheme for Roma students to increase their knowledge of careers and educational pathways. (See International Projects Page) http://www.compas.org.uk/roga/
PEALit Whole Staff Training – A series of PEALit (Prepare for EAL and Literacy) workshops and presentations have been carried out with the whole staff at the Academy to ensure that staff understand the difficulties that may have been experienced by our EAL and Roma students. The workshops and presentations are ongoing throughout the academic year and so far have focussed on Roma history and statistics, Roma values and traditions, etc..
Association for Language Learning World Languages Special Interest Group – Queen Katharine Academy hosted a stakeholder workshop on 20th June 2018 focusing on supporting EAL and bilingual students. The event was very well attended by teachers and educators from across the city and the East of England.
Working with the Roma Community
Peterborough is one of the areas across the country that has high concentrations of European Gypsy-Roma communities. In Peterborough, these tend to be of Czech, Slovak and Romanian descent, although there are small numbers of Roma from a wider range of countries as well as British GRT communities. This section aims to provide support and information for those working with the Roma Community.
Links
Erasmus+ programme: Roma - Narrowing the Gap and Aiding Integration 2019-2021
Queen Katharine Academy has been lucky enough to gain funding from the European Union Erasmus+ grant fund to carry out research into education. The focus of this project is sharing good practice and collaborating to improve integration and achievement for Gypsy-Roma students in the UK, Spain and Slovakia.
The project builds on links forged and knowledge gained through our previous Erasmus+ project 'Right to Roma' and aims to support our students in acquiring basic skills and key competences.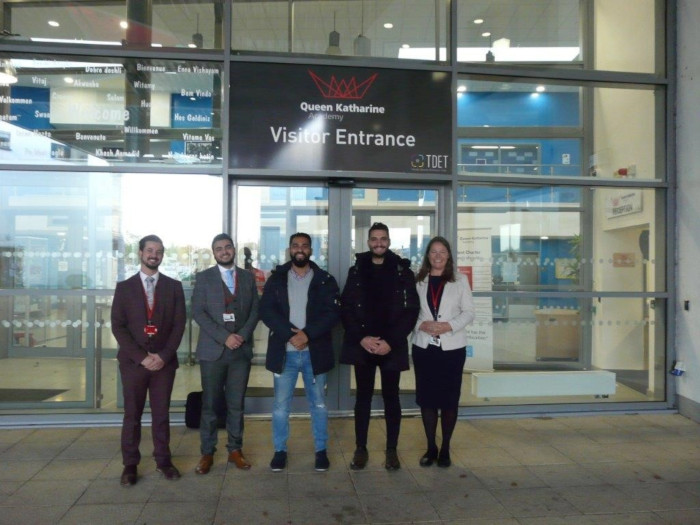 On Thursday 14th November 2019 we hosted our Spanish partners for our initial meeting.
Working with EAL
This section aims to give information and links to research and documentation that may be helpful to those working with EAL.
Links
"St Edmund's Nursery School & Children's Centre, Bradford – Working with and Engaging Families from Central & Eastern Europe"
https://www.stedmundsbradford.org.uk/training-and-consultancy/new-arrivals
NALDIC, the National Association for Language Development In the Curriculum, is the UK subject association for English as an additional language (EAL).
https://naldic.org.uk/
EEMEMA – East and East Midlands Ethnic Minority Achievement
MERGE has been reborn as EEMEMA to sustain and develop a wider regional partnership which will focus on Ethnic Minority Achievement across all phases and educational settings. The group also comprises what was the East and East Midlands EAL hub and they wish to continue to offer the regional EMA CPD opportunities that the hub provided. Founder members are: Cambridgeshire, Essex, Hertfordshire, Luton, Norfolk, Peterborough and Suffolk.
National Institute of Economic and Social Research: March 2019
https://www.niesr.ac.uk/publications/how-schools-are-integrating-new-migrant-pupils-and-their-families
Dr Rolfe blog https://www.niesr.ac.uk/blog/migrant-pupils-lead-way-promoting-foreign-languages-schools
Absence from school data that shows pupils from the Traveller of Irish Heritage and Gypsy/Roma ethnic groups had the highest 'overall absence' rates
Destinations data for school pupils that shows that 65% of Gypsy/Roma pupils and 68% of Traveller of Irish heritage pupils went into education, employment or training after key stage 4 (when they're usually aged 16), compared with over 90% of pupils from all other ethnic groups
Education, skills and training data that shows that Gypsy/Roma and Traveller of Irish Heritage pupils consistently had the lowest attainment out of all ethnic groups throughout their school years
Article about the DfE document released in June 2019 detailing the outcomes for EAL students by year of entry into UK education: https://schoolsweek.co.uk/eal-pupils-outperform-native-speakers-if-they-join-schools-early/?mc_cid=ed48848e8f&mc_eid=45649f1501
This link includes research articles, book chapters, blog posts and tips and guidance for parents and teachers. The selection spans applied linguistics, developmental psychology, education, sociolinguistics and research design: International Day of Multilingualism Collection

Hampshire Ethnic Minority and Traveller Achievement Service (EMTAS) team is developing resources for schools (and for families). A series of aide memoires, around all sorts of topics, are included - you can see an example here: https://www.hants.gov.uk/educationandlearning/emtas/primary-secondary-phase (refer to 'first and other languages').

Keep watching the Hampshire EMTAS Moodle (where these materials will eventually appear) for these free open access courses as they develop...emtas.hias.hants.gov.uk/
Resources
Below are links to a range of websites offering resources to support teaching EAL in class. Please note that we do not endorse any of the sites below.
https://discoveryeducationalsoftware.co.uk/racing_e.htm
https://esol.britishcouncil.org/
https://www.thelanguagemagician.net/
https://www.vocabexpress.com/co/
https://www.bedrocklearning.org/
Useful Contacts:
Schools working with Roma Cohorts
Jane Driver - Queen Katharine Academy, Peterborough (Secondary)
Tel: 01733 383888
Email: jane.driver@qka.education
Web: http://www.qka.education
Address: Mountsteven Avenue, Walton, Peterborough, PE4 6HX
Individuals / Organisations Supporting Roma
Petr Torak MBE, Chief Executive, COMPAS
Tel: 07718062144
Email: petr.torak@compas.org.uk
Web: www.compas.org.uk
Address: COMPAS Orion, 555 Lincoln Rd. Peterborough, PE12PB
Sue Hay, Project Worker Parallel Lives Roma Project
East of England Local Government Association
Tel: 07920 257964
Email: sue.hay@eelga.gov.uk
Web: https://www.eelga.gov.uk/
Roma Support Group
Tel: 0794 908 9778
Email: info@romasupportgroup.org.uk
​​Address: P.O. Box 23610, London, E7 0X
Policy Updates:
Tel: 020 7219 7347
Web: www.parliament.uk/womenandequalities
Twitter: @commonswomequ
EU Settlement Scheme Applications: Important Message About COVID-19
The EU Settlement Scheme continues to perform well and more than 3 million have already been granted status with more than a year left to go until the deadline for applications.
While applications continue to be processed, during this challenging time they will take longer than usual. In addition, in line with the latest Public Health England advice some of our support services and application routes have temporarily changed. Please find an outline of these changes below. This situation is being kept under constant review and we will continue to keep you updated.
Settlement Resolution Centre (SRC)
The SRC will no longer be answering telephone calls. It will, however, continue to respond to email enquiries and provide a call back function when required. Emails from support organisations will be prioritised where possible.
ID document scanner locations
The ID document scanner locations are following all the latest Public Health England advice to protect staff and the decision has been made, to suspend them at this time.
Postal route for submitting Identity evidence
The postal route for submitting identity evidence is currently suspended. We are unable to accept any documents by post at this time, but all documents already sent to us will be returned as quickly as possible. Applications can still be made online using the "EU Exit ID Document check app".
57 grant funded voluntary and community sector organisations
Some services have been suspended but organisations are seeking to provide support in other ways, in line with social distancing guidance, for example via telephone and online. Please check with the individual organisations for further details.
Further information
There are still 15 months before the deadline of 30 June 2021 for applications to the EU Settlement Scheme, and there is plenty of support available online to support those looking to apply.
This PDF document has links to translated communication materials in 26 languages.
Erasmus+ Local Heroes
Student project with our partner schools in Germany and Spain, which focuses on each school's local history and the individuals who have had a positive impact on the region.
Erasmus+ Unity
Student STEM project with our partner schools in Slovakia, Poland, Hungary and The Czech Republic, which focuses on developing the aptitudes of global citizenship.
Erasmus + Europe Online
Student STEM project with our partner schools in Germany and Italy, which focuses on the evolution of our communities and local environments.
Erasmus+ International Language Leaders
Student project with our partner schools in Crete and France, which builds on QKA's Language Leader programme and incorporates student-led language conferences and courses.
Visitors from Taiwan
Every summer, QKA welcomes a group of Taiwanese exchange students into our school community to gain an insight into education in the UK.
Connecting Classrooms: Rivers of the World
Collaborative project with schools in Morocco and other Peterborough schools. This will develop further in 2020, including a teacher visit to our partners in Morocco.
TSST Spanish
CPD sessions hosted by QKA, aimed at current and aspiring teachers of Spanish in the Peterborough area.
Association for Language Learning: Primary and Secondary Hub
QKA hosts the Association for Language Learning (ALL) Peterborough Primary and Secondary Hub, which provides training and support for Language teachers across the city. In addition to regular teacher training events, the Academy is currently leading a project aimed at local primary schools, in conjunction with The Goethe Institut, which supports the implementation of the KS2 MFL programme, the Language Magician.
The Language Magician workshops
In June 2019, QKA held half-day Language Magician workshops for local primary schools in French and Spanish to promote KS2 language learning. Sessions were delivered by QKA Language Leaders and QKA students who are native speakers of French.
Foreign Language Spelling and Translation Bee
National competition created by QKA Deputy Head, Jane Driver. QKA has also hosted the Regional Finals of the competition. Furthermore, QKA has produced a two-time national champion in the Translation Bee competition.
Language Leaders
Student leadership scheme in partnership with the University of Cambridge and Routes into Languages East. Participants attend a training day at the University of Cambridge and meet weekly to prepare KS2 Spanish lessons for primary school classes. Further into their roles, leaders deliver these lessons to groups at local primary schools.
EAL Hub
QKA is a leading school in EAL research in the East of England and thanks to Lottery funding has developed an EAL Hub for schools and organisations in the region.
ADiBE
European CLIL (Content and Language Integrated Learning) project aimed at improving language learning and making bilingual education a more inclusive reality for all. QKA has been selected as a pilot school and is collaborating with international institutions and leading educational experts to create bilingual History and Geography teaching resources.
Adastra
Workshop led by broadcast and digital production company, Adastra Development Limited. QKA Students worked with artists and producers of well-known children's TV programmes to produce their own stories, which captured their heritage, feelings of identity and experiences of life in different countries.
Roma Safeguarding workshops
Workshops hosted by QKA in conjunction with The East of England Local Government Association as part of their Parallel Lives Project, as well as the Roma Support Group.
Roma Leaders
Student Leadership scheme to develop leadership skills and self-esteem among our Roma students, as well as to promote Roma culture throughout all areas of school life.
Roma exhibition
In September 2019, the Academy hosted a Roma Exhibition held at the Vivacity unit in Queensgate, Peterborough. The exhibition included displays of artwork, examples of traditional Roma dancing and information on the history of the Roma people. Visitors, including the Mayor of Peterborough, were guided around the exhibition by QKA's Roma Leaders and were given a unique opportunity to learn more about the Roma community from students and staff.
Documentary on Britain's Roma Community
Workshop led by the Romany journalist and filmmaker, Jake Bowers. A group of QKA's Roma students had the opportunity to help produce a short documentary for the East of England Local Government Association about Britain's Roma community. Many of them also shared their own stories in front of the camera.
TES
Shortlisted for the TES Award in the International category
British Council: International School Award
In November 2019, QKA was awarded the full International School Award.
Roma and Proud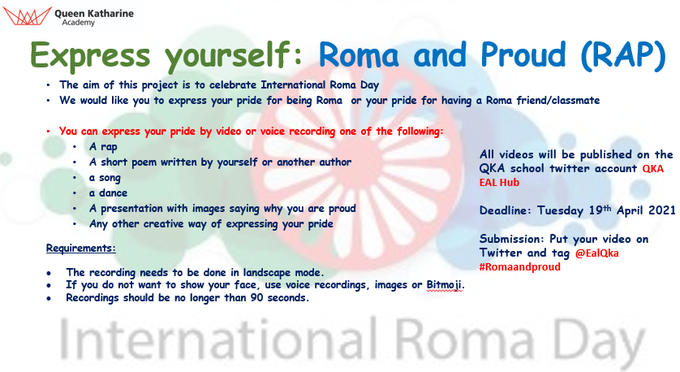 View the videos posted on our twitter feed by visiting this link.