How do I apply?
Parents/carers are able to apply online via www.peterborough.gov.uk/admissions for their Secondary School places for September 2022 entry. The first-round applications close on 31 October 2021. If you miss this deadline, you will need to apply for a secondary school place as soon as possible. All parents/carers can visit the Local authority website www.peterborough.gov.uk/admissions where you will be able to:-
access the Secondary Admissions Booklet
find advice on which schools require a SIF and availability to download them
access the Parent Portal page where you will be able to log in or create an account to apply for your child's school place
When do I hear what Secondary Place I have been given?
Offers come out on March 1st via Peterborough County Council. You will have to log into your online account to see your Secondary School Offer. You will need to confirm your place. Further offer rounds come out around every 4 weeks.
What time does school start?
The normal QKA school day is from 8.40am – 2.45pm. You will have 6 lessons during the day, lunch time and tutor time at the end of the day. We enter through our year group zones between 8:15-8:40.
What is the Uniform like?
At Queen Katharine Academy we believe that a uniform teaches students to dress smartly and take pride in their appearance. It also means that students don't have to worry about peer pressure. When everyone is dressed the same this reduces distraction, sharpening focus on learning and progress and making the classroom a more serious environment. Our uniform gives students a sense of belonging and creates an identity for the Academy in the community.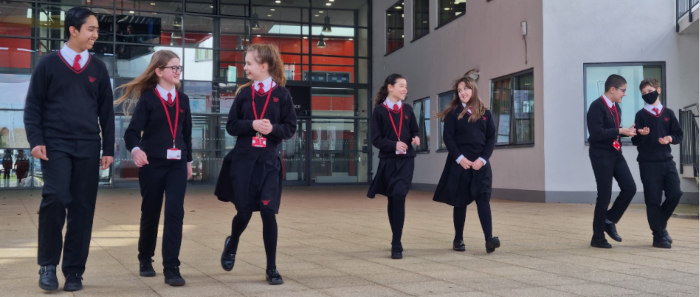 Where can I purchase the uniform?
Branded Queen Katharine Academy Uniform can be purchased from Chroma Sports, Bretton. For more information, please see our uniform page. Other items of uniform can be purchased at a shop of your choice. Our latest uniform policy will always be accessible on our website.
What subjects do I study at school?
Here at Queen Katharine Academy we have an extremely diverse cohort, and our curriculum is designed to ensure that all students are able to achieve their full potential. QKA offers a range of academic and vocational qualifications, thus allowing students a range of opportunities to follow diverse career and educational paths once they leave the Academy. Our aim is to ensure that all students aspire for educational excellence and gain the necessary cultural capital to become valuable members of our global community.
We have high expectations based on a clear knowledge and understanding of our students' needs. We firmly believe in offering a wide range of opportunities for all students and provide appropriate support, stretch and challenge. We offer a variety of subjects alongside our core curriculum such as Dance, Music, Drama, Art, Humanities, Languages, Physical Education, Food Technology, Engineering, Textiles and many more. At Key Stages 3 and 4 (Years 7-11) alongside our standard curriculum we offer an Accelerated Curriculum to support those students who arrive at the Academy needing additional support.
For more information please visit our curriculum page.
What support is available?
Wellbeing is a top priority at QKA and we understand the pressure of Academy life can sometimes feel over whelming. We encourage students to talk to about their feelings, to help put things into perspective and to relieve some of those pressures. There are lots of people in school who can help. For more information about Student Wellbeing, please click here.
What food is on offer?
Our menus are modern, fresh and exciting, they are designed to appeal to students of all ages. We offer a variety of hot food, sandwiches, rolls, wraps and paninis alongside filled jacket potatoes, assorted snacks and fresh salads. We also offer a meal deal for students which includes a main course, dessert and drink. For more information, please visit our catering page.
Is there ParentPay or another online payment system?
Students can load cash onto their account in school and use their ID Cards to pay for food, drink.