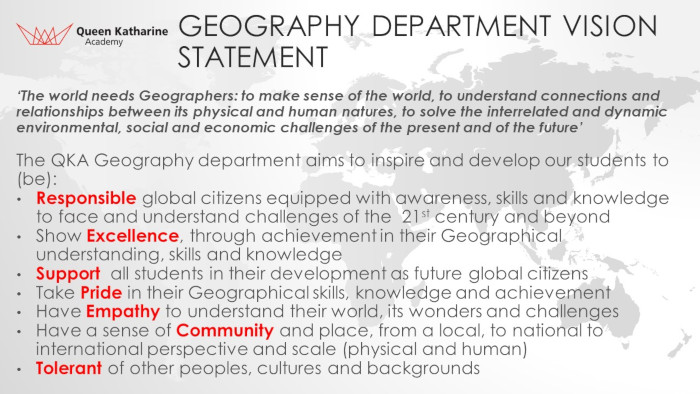 Introduction
Geography lessons at Queen Katharine Academy provide students with the wide range of skills required to make sustainable decisions as responsible global citizens and enhance their future employability. This includes a particular focus on analytical, evaluative, graphical, statistical and cartographic skills. We are continuously looking forward and determined to improve. The department meets regularly to discuss pupil progress for all Year Groups and on the personalised support that may be required by students.
The Geography department works with a shared vision for teaching and learning and supporting pupils to achieve their best. The department is very proud of every pupil's achievement and seeing some of our pupils go on to study geographical courses at university, including at PhD level.
Key Stage Three
In Key Stage Three, the department follows a curriculum that aims to introduce students to a wide variety of topics that encompass both traditional and contemporary aspects of the subject, including those that appear on the GCSE specification. The department encourages out of classroom learning through a range of independent learning projects. Students are given the opportunity to participate in a range of field trips and visits to enhance their learning in the classroom.
KS3 Geography Programme of Study
KS 3

Y7

Y8

Y9
A sense of place
Oceans under threat
China: Rising superpower
Fantastic Places
Africa: A continent of contrasts
Hazardous planet
Ecosystems
Coasts
7 billion and counting: Population and migration
Rainforests
Development: The power of money
This is the UK
Rivers and flooding
Ice and its issues
Resources: Decision making exercise
Key Stage 4
In Key Stage Four, the department follows the new 9-1 AQA course. The course combines a mixture of Physical and Human Geography. Pupils participate in fieldwork that is based in Hunstanton and London.
GCSE Geography Programme of Study (AQA)
KS4 AQA spec

Y10

Y11

The UK's physical landscapes

The changing economic world

Urban issues and challenges
The challenge of natural hazards
The living world
The challenge of resource management
Key Stage Five
In Key Stage Five, the department follows the new Edexcel Specification course. The course combines a mixture of traditional exams with a synoptic based examination and coursework. Pupils participate in fieldwork in North Yorkshire as well as independent fieldwork based upon a unique investigation of their own.
Advanced Level Geography Programme of Study (Edexcel)
Year

Autumn Term

Spring Term

Summer Term

12

Area of Study 1 Topic 1 – Tectonic Processes and Hazards
Area of Study 2 Topic 1 - Globalisation

Area of Study 1 Topic 2 – Coastal Landscapes and Change
Area of Study 2 Topic 2 – Diverse Places
Residential Fieldwork

AS Paper 1 (Area of Study 1/ Fieldwork)
AS Paper 2 (Area of Study 2/ Fieldwork)

Independent Investigation/ Report

13

Area of Study 3 Topic 1 – The Water Cycle and Water Insecurity
Area of Study 4 Topic 1 - Superpowers

Area of Study 3 Topic 2 – The Carbon Cycle and Energy Security
Area of Study 4 Topic 2 – Migration, Identity and Sovereignty

A Level Paper 1 (Area of Study 1 and 3)
A Level Paper 2 (Area of Study 2 and 4)
Paper 3 (Synoptic examination)
Staff
The Geography Department consists of three dedicated teaching classrooms and is staffed by the following colleagues:
Bethan Griffiths (Subject Leader)
Cameron Graham
Charlotte Cartwright