QKA is proud to announce that the Academy has been shortlisted for a TES Award in the International category.
The TES Schools Awards, celebrate the extraordinary commitment, quality and innovation shown by teachers and support staff across the UK and we are very excited to have been shortlisted - a real accolade to the quality of international work happening across the Academy.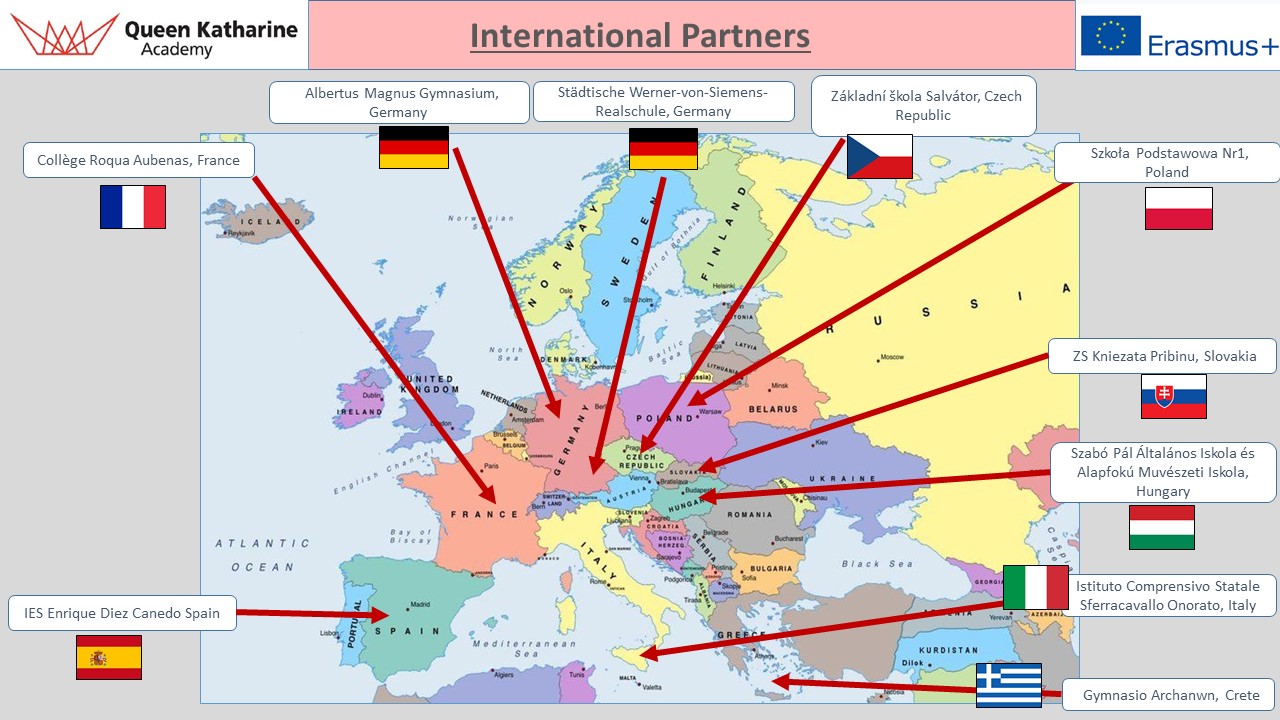 ---
Queen Katharine Academy is proud to hold the Full International School Award, and celebrating the Academy's diversity and embedding global awareness is a key part of our core ethos.
Miss Ground attended a ceremony at the British Council in London, where she collected QKA's Full International School Award.

The Academy is very proud of its international ethos and this award demonstrates the excellent work being carried out across the school.
The Academy offers a wide range of language, cultural and international projects and initiatives at a school, regional and national level. We have partner schools in Taiwan, Morocco, Germany, Spain, Hungary, Poland, The Czech Republic, Slovakia, Italy, France and Greece. Students have the opportunity to participate in a range of international projects, competitions, leadership schemes and trips abroad.
Queen Katharine Academy also hosts the Association for Language Learning (ALL) Peterborough Primary and Secondary Hub, which provides training and support for Language teachers across the city, apart from regular teacher training events, the Academy is currently leading a project in conjunction with The Goethe Institut with local primary schools in the region supporting them with the implementation of The Language Magician, an exciting tool for primary languages.
QKA is very pleased to announce that we have been re-accredited with the prestigious 'Full International School Award' from 2019 – 2022. The Academy received fantastic feedback from the British Council praising us for our international work – click on the dropdown below to read their comments:
Comments from the British Council Assessor
"Queen Katharine Academy. International School Award Re-Accreditation: APPROVED.
The international dimension at Queen Katharine's Academy is firmly embedded in your curriculum and whole-school ethos, promoting an appreciation of the cultural diversity both within your school community and in the wider world, foreign language learning and citizenship attitudes and attributes.
Your two current Erasmus+ projects are very different, but both are providing tremendous opportunities for students and staff to collaborate with students and teachers in your partner schools in very different European countries. The projects will also have direct positive impact on your STEM curriculum and on the integration of your EAL students and their families. Foreign language learning is clearly a high priority, and you have included a range of high profile activities and events in which your school plays a key role.
Other activities involve your students learning about countries and cultures beyond Europe in "Taiwanese Visit" and and "Japanese and Aboriginal Art". You have provided excellent detail about all fifteen of your international activities, conveying a very clear impression of student activities, curriculum links, aims, outcomes and evaluation. Collaboration with your Erasmus+ partners at student and teacher level is clearly evident in the required three activities.
Your international dimension is clearly well managed so that it is embedded across the curriculum, and well coordinated to dovetail with strategic planning and key priorities. Your Impact Evaluation is equally detailed and insightful. You highlight the benefits of international work for your students - increased achievement in foreign languages, motivation and curiosity to learn about different countries and cultures, international friendships, and positivity and appreciation of different cultural groups in school. Integration of your EAL students is clearly supported and aided by your international projects. You also acknowledge the benefits of international links for staff in terms of curriculum planning skills, foreign language upskilling and increased awareness of other countries and their education systems.
Your Erasmus+ projects provide excellent opportunities for teachers as well as students to visit schools in other countries and share good practice internationally. The required ambassadorial role is amply met by your high profile position in MFL and EAL networks in which you can share your expertise and experience in the field of international links and opportunities, as well as supporting other schools in their progression towards International School Award accreditation.
You have good plans to sustain and further develop your international work, with intention to apply for further Erasmus+ partnership funding, which will in turn provide longevity and coherence for your international school links.
Congratulations to the International Coordinator and to all at Queen Katharine's Academy who have contributed to this achievement in the 20th Anniversary Year of the International School Award! "
Please see the links below for further details of our wide-ranging international work: